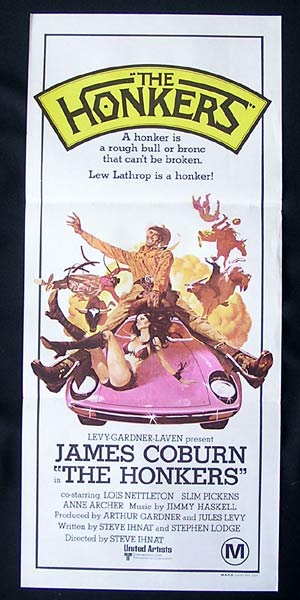 The Honkers
The exciting world of rodeo provides the framework for this western saga that centers around a temperamental bronc rider, Lew Lathrop (James Coburn), who tries prove himself worthy of his wife, son, and his best friend's respect. He also wants to keep his freedom. Lathrop enjoys modest fame in his occupation, which is rodeo riding, and immoderate success in his preoccupation, which is women. But his lust and insistent refusal to settle down prove his undoing. He loses his much abused wife (Lois Nettleton) and teen-age son just when he comes to realize he needs them both. He wrassles unsuccessfully with guilt when his best buddy, Clete (Slim Pickens), a rodeo clown who keeps an avuncular eye on Lew, gets his neck broken for his trouble. When last seen, Lew is wandering off over yonder hill, saddle over his shoulder, sadder but prob ably not much wiser.

Kingdom of the Spiders

Investigating the mysterious deaths of a number of farm animals, vet Rack Hansen discovers that his town lies in the path of hoards of migrating tarantulas. Before he can take action, the streets are overrun by killer spiders, trapping a small group of townsfolk in a remote hotel. Another good thing about Kingdom of the Spiders is the ending. Although a little unbelievable, it is a truly great ending and kind of surprising. This is a great B horror flick and a drive-in classic. (For many aficionados of "attack of the killer critters" movies, Kingdom of the Spiders holds a place on the very short list of all time greats, generally considered by these drive-in fanatics to be the best flick on eight legs)

Rio Diablo

A young man whose wife is kidnapped on their wedding day by a band of thieves, teams up with a bounty hunter who wants them too,
After experiencing Kenny Rogers' going-through-the-motions performances in [The] Gambler movies, this change-of-pace role came off as a minor revelation. It takes a lot of guts to go against type and some can't convincingly, but the actor-singer pulls it off so well that it's disappointing when his character softens somewhat in the second half. Tritt is stiff in the initial going, but improves as the film goes along; Judd shows where baby daughter Ashley got her charm in a small but effective bit as a sprightly madam. Adding to the film's effectiveness is the sublime cinematography of David Connell, whose striking use of well-chosen Texas backdrops is of feature film caliber.