Charley Sunday's Texas Outfit!
Click Cover to Order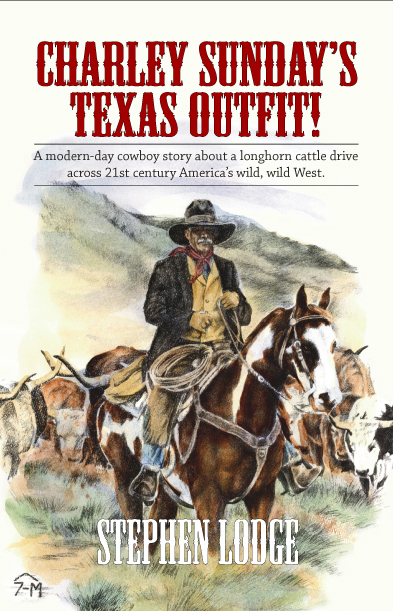 "Take them to Texas, gentlemen!"
In a day and age where reliance on cellphones, computers, cable and fast food is essential, how many people actually have the chance to step back in time to experience a bit of our Western heritage? Charley Sunday's Texas Outfit!, a lighthearted, present-day yarn for the entire family, offers a unique glimpse into our Western history.
Charley Sunday, a sensible, sober-minded Texas grandfather, imparts the American Cowboy legacy to his only grandchild as he and several of his grizzled cronies concoct a 1,000-mile longhorn cattle drive across 21st Century America. Four leathery cowboys, one insightful Indian, two strong-willed women, a two-gun oddball, a dog, and a little boy make an unlikely team as they trek from Colorado to Texas, continually running up against the forces of corruption. Finding salvation from the most unlikely sources, this rip-roarin' tale of faith versus greed will touch your heart, and take you back to a time where the lines between right and wrong were defined by bravery and honor.
Reviews and Accolades
"In the tradition of the cowboy yarn and Saturday afternoon movie matinees whose storylines celebrate the triumph of right over wrong, readers will find the quirky plot to be entertaining."
-Myrna Zanetell, special to The El Paso Times
"...an inspiring and human tale that will lift your spirits and make you want to dust off your spurs. The writing is strong and creative. The characters are beautifully crafted with an appealing authenticity. Charley Sunday's Texas Outfit! has something for all kinds of readers and has my highest recommendation!"
-Nancy Mehl, MyShelf.com
"Reminiscent of a quality western in the style of Louis L'Amour, Charley Sunday's Texas Outfit! draws a clear distinction between the good guys and bad guys. Readers longing for a family tale where justice prevails will be thrilled with this modern day saga."
-Dennis Royer, Author of STRANGER
...a stylish and captivating heap of fun ... like dripping pigments on a canvas, Mr. Lodge's descriptive phrases bring the characters to full dimension.... a refreshing lighthearted tale - a chuck wagon full of entertainment. Makes you want to go out and buy a ten-gallon hat Highly recommended."
-Sherry Russell, Midwest Book Review
Author Stephen Lodge is a veteran Hollywood screenwriter and actor, and it shows in the wonderfully visual style of this novel. Mr. Lodge takes you right into the middle of the action. The scenes move along at the clip of wild horses galloping across the prairie....you will love the vivid characters, warm relationships and fast-paced action of Steven Lodge's novel of the New West."
-Brian Hill, Author of "The Making of a Bestseller"
...a nostalgic dream of long time past, but sometimes dreams do come true...a humorous read that nevertheless packs lots of information.
-Western Writers of America
Charley Sunday's Texas Outfit! is a most unusual American western, for it is set in the modern twenty-first century... it is a parable of faith, courage, and hard work pitted against forces of greed and corruption, and hearkens to the notion that honor is just as important now as it was one hundred and fifty years ago. An upbeat, enthusiastically gung-ho western read.
-Midwest library newsletter "Wisconsin Bookwatch"