Nickel-Plated Dream
Click Cover to Order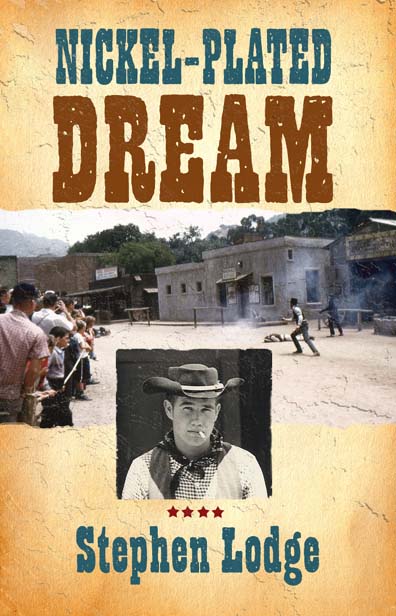 Return to the thrilling days of yesteryear where traditional western values embrace the Code of the West.
This exciting adventure yarn blends teenage restlessness with cowboy thrills while paying tribute to the Western stars and movie sets of the late 1950's.
"The Kid"—a 20th Century lad with a stubborn wish that he'd been born a 19th Century gunfighter, and his faithful companion—an eccentric Indian called "Indian," embark on a heart-stirring odyssey that takes them from John Wayne's set of The Alamo in Texas to Opening Day at the Old Tucson Western Movie-Set Amusement Park in Arizona.
Their rowdy escapades eventually lead them to California's celebrated Corriganville Movie Ranch—the Universal Studios Tour of its day. Here is where The Kid quickly learns the ropes by testing both his love and his courage. Acting out famous historical gunfights for the throngs of paying tourists brings The Kid closer to his dreams—and to death.
Nickel-Plated Dream is loosely based upon the author's humorous and youthful recollections of 1959 when he was a 16-year-old gunfighter/stuntman at the then-world-famous Corriganville Movie Ranch Attraction near Hollywood.
Reviews and Accolades
Lodge's Nickel-Plated Dream takes the reader on a wild bronc ride through the 1950s' Hollywood Western heyday, "pays tribute to the Western Stars and movie sets." It's a delightful read for all you fans of the Duke and other celluloid favorites.
~ Roundup Magazine
Nickel-Plated Dream is a family-friendly, page-turning tale of young love, quick wits, courage and camaraderie, complete with manly mentors and a dastardly villain. It's a pleasure to read and hard to put down.
~ Deadwood Magazine
Written in a friendly, vivid style, constantly making references that only a diehard western fan could…a heartfelt ode to a time, a place and even a state of mind that is embodied in the glorious B-westerns we grew up loving. The Kid, as he's called, is all of us.
- Leo Pando - chief reviewer for The Old Cowboy Picture Show newsletter
"A fun read"
- Boyd Magers' Western Clippings
"Authentic behind-the-scenes tale ... Readers will have their fingers crossed as they turn the pages."
- True West Magazine